Syracuse Downtown Farmers' Market Opens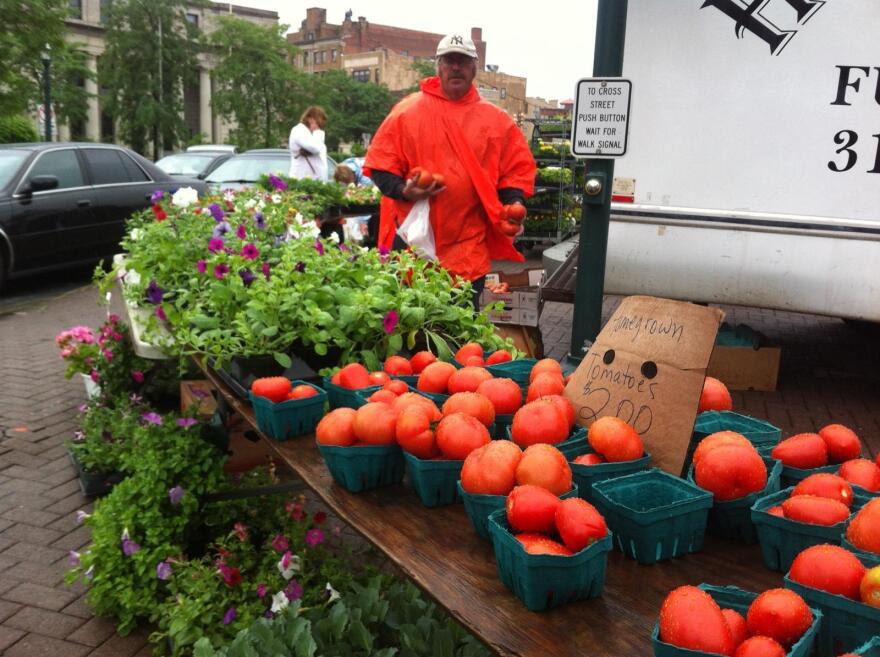 A rainy start to the Downtown Syracuse Farmers' Market today didn't keep it from opening with a splash. Workers stopped by on their lunch breaks to enjoy the fresh produce and baked goods, and left with items to take home. The weekly event featured dozens of vendors selling fruits, vegetables, wine, baked goods, dairy products and decorative plants.
Downtown Committee's Operations Director Chuck McFadden arrived bright and early to set up in Clinton Square, the market's home every Tuesday from 7 a.m. to 4 p.m. He's been running the event for 37 years, and each year he's pleased with the positive feedback from visitors.
"Most of them want to see us starting earlier than we do, this is opening day. Most of them wish we could start in May, but it takes a little bit of time for the farmers to start growing some products. So, we try to do what we can. But we can't fight with Mother Nature, and she says when we can start," McFadden said.
All the vendors, old and new, were just as eager to sell their products as the market's visitors were to enjoy them. Farmers' market newcomer Lindsey Pavia represents Kriemhild Dairy Farm. She promoted her specialty: fresh-churned meadow butter from grass-fed cows.
Farmers_Pavia1.mp3
Kriemhild Dairy's Lindsey Pavia speaks about her first time at Syracuse's Downtown Farmers' Market.
"It's exciting. I mean, the butter's great, it's a wonderful product, and wouldn't want to be any other place. We could use some sunshine, but everyone still seems to be coming out. So, it's a good thing," Pavia said.
The dairy farm, which is located in Hamilton, NY, characterizes the local diversity of the market – all 40 vendors come from different parts of Central New York. And the market's organizers don't expect a shortage of visitors, with 30,000 downtown employees and the area's residential revival.
The market also featured live country music, including the group, Bright Lights.