Mayor Ben Walsh Says Credits His Success To Shared Values And Priorities With Residents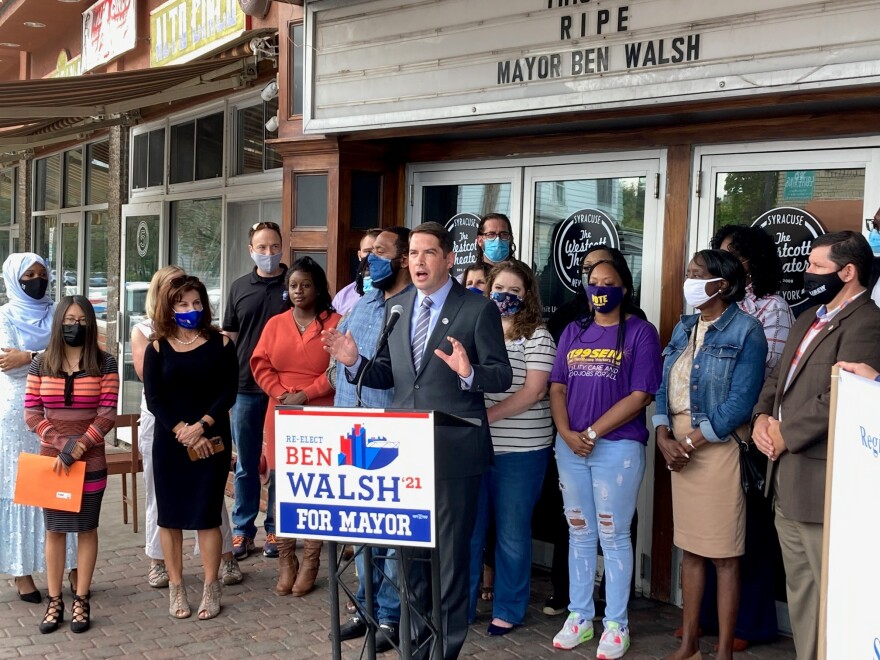 Independent Ben Walsh was able to convince city voters of virtually all party persuasions to elect him as mayor four years ago. Now, with a record to run on, he's trying to do it again.
BEN WALSH:
Four years ago, I was just a candidate and was able to spend the vast majority of my time focused on the campaign. This time around I am the mayor and I have all of the duties associated with being mayor. So my priority continues to be running the city. That said part of being mayor is running for reelection. So I've tried to integrate that into my daily schedule. I'm continuing to learn along the way.
SCOTT WILLIS:
What have you learned from voters or even other candidates during the campaign and has it changed your perspective or position on issues and maybe which ones seem to rise to the top?
WALSH:
I think there's a few takeaways that I have. One is how important communication is. One of the biggest challenges throughout the pandemic has been to get good information to our constituents, whether it's about the pandemic or whether it's about city services. There's a lot of things that we're doing that people don't know about. Another takeaway is people are hurting from the effects of the pandemic, some with their health or their health of their loved ones, some financially. There's certainly hope for coming out of the pandemic and being able to pick up on all the progress that we've been making, but real frustration and fatigue. And that we've been at this for 18 months without a clear end in sight. When I go into neighborhoods, I hear about quality of life issues. I hear about concerns with crime. I hear about concerns about our young people, getting the support they need, the education they need, and those are all areas that we've been laser focused on despite the pandemic and, I feel have made progress on, but I think across the board from me to the constituents I serve, there's an understanding that there's a lot more work to be done.
WILLIS:
Maybe that's a source of frustration for you and, and your administration to, you know, want to tackle some of the most pressing and intractable issues like poverty and, and, uh, police accountability. And now ARPA funds. How do you try to balance all of that?
WALSH:
It is a challenge and it does get frustrating at times, but what keeps me going is the fact that we are achieving results in spite of those challenges. And in spite of those distractions, the number one factor contributing to our progress in spite of those challenges is the team that I work with every day and that I serve with. I'm really proud of the team of senior staff and department heads and workers that we have out delivering services every day. And those people have been doing that work throughout the pandemic and doing it well and making progress.
WILLIS:
You're an independent running for a second time in a city dominated by democratic voters. And you've earned the backing of organizations that traditionally support Democrats and maybe even some Republicans. So what are the advantages and maybe even drawbacks to not running on either major party line?
WALSH:
Well, the advantage is I'm being true to myself. If I was going to go down this path four years ago, I had to do it in a way that I was staying true to myself and that I could look at myself in the mirror every night and say I'm doing the right thing for the right reason. So for me, that was maintaining my independence. It's more of a challenge running as an independent. The system is set up in a way that supports that the two major parties. It's who I am, despite many attempts to try to put me in one box or the other. I don't think I'm unique. I think most of us don't fit neatly into one of those two party boxes. Now, many people feel a stronger allegiance to one or the other. That's fine. But for me, especially at the local government level, it really has little to do with party politics. Yes, you have to have the right values and priorities and things like that. And, and I believe the reason I've been successful is because my values and priorities do align with the majority of the people that I serve in the city.