Fun Events Highlight Importance of NY's Dairy Industry During Dairy Day at the State Fair
Piled-on ice cream scoops, some secret ingredients or two, and then… mix it up with milk. The New York State Fair marked the 37th annual Dairy Day Monday. Members of the media competed this morning with their one-of-a-kind milkshakes. Rising Country Music Singer Lindsay James was teamed up with local DJ Skip Clark.
"All around, I actually would drink our shake. Skip, don't you think you would drink the shake?"
"The shake was awesome," Clark said.
"It tasted great," James concurred.
Dairy Princesses chose Time Warner Cable News as the winner. Fifty gallons of milk will be donated in their name to Food Bank of Central New York. Afterwards, the Big Cheese auction raised proceeds for the Dairy products building.
A 40 pound brick of cheese brought top dollar...$1,100 dollars in fact. American Dairy Association V-P of Industry Communications Beth Meyer says the Dairy industry makes a really significant impact on the economy.
"It's a great day to recognize all the hard work the men and women do throughout New York State to produce milk. Agriculture is biggest sector of New York's industry, dairy's the largest portion of that sector. It's a very important employer in New York State that I think not everybody realizes."
We stopped the Ashley family with their chocolate milk in hand to see if they could guess how many gallons are produced daily for the Rainbow Milk Bar at the Fair.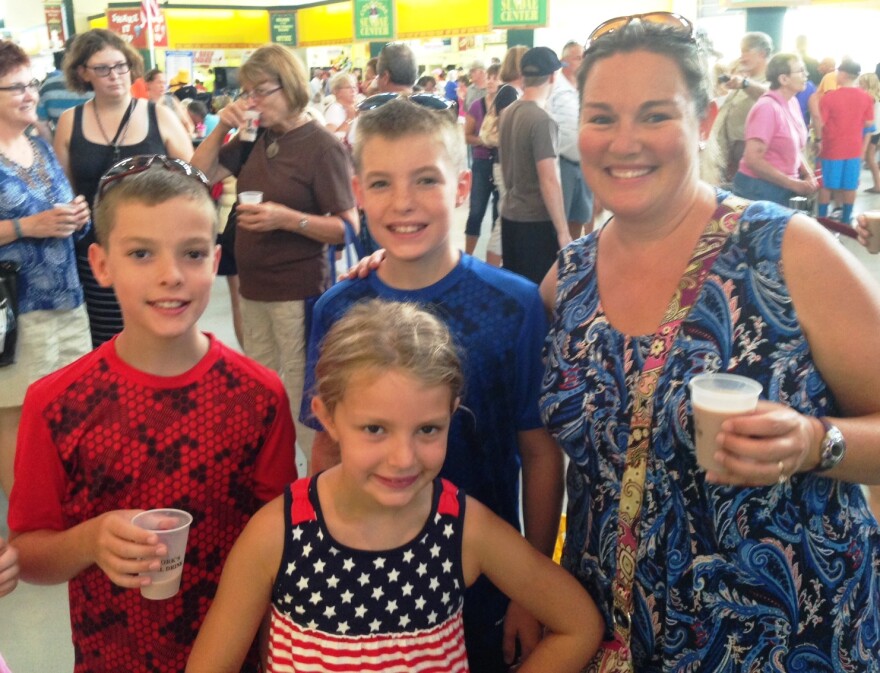 Another 400 gallons of whole milk is also delivered daily to the Fair's milk bar.