Indigenous People's Day in Syracuse to be Celebrated at the Inner Harbor
Monday marks the traditional Columbus Day holiday, but some members of the community will instead be celebrating Indigenous Peoples' Day at Syracuse's Inner Harbor. Organizers say there's been a growing movement to change the commemoration. Andy Mager with Neighbors of the Onondaga Nation says they're also trying to educate people about the slaughter and slavery brought about by Columbus and others that followed.
"There's no effort to dishonor Italian Americans, but rather to say Christopher Columbus is not someone we as a community should be celebrating. Certainly there are many people from Onondaga and other indigenous peoples who are deeply pained by this celebration of Columbus Day, who feel it's another message that they don't matter, that the suffering that indigenous peoples have endured doesn't matter."
Mager says seven states and hundreds of cities and towns have changed their commemorations to Indigenous Peoples' Day. He acknowledges any change gets more complicated in New York, including Syracuse, with its stronger Italian American communities. Mager says, though, that schools in Syracuse and elsewhere are slowly changing how they teach students about Columbus.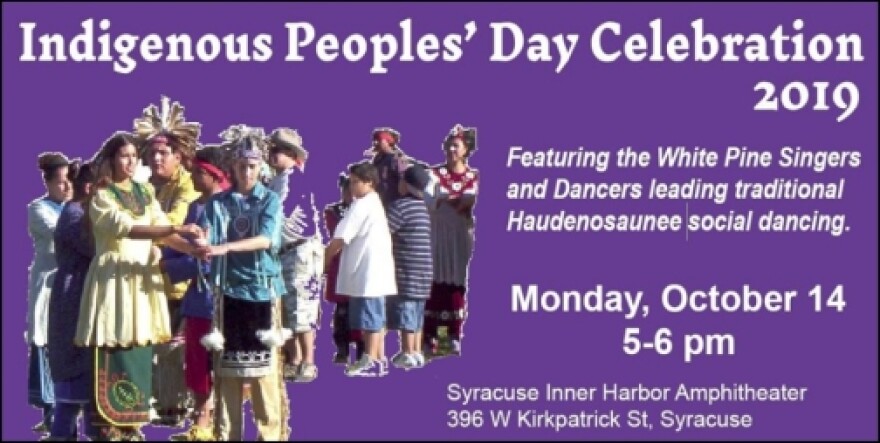 "The idea that I was taught that Columbus 'discovered' America, that there were hardly any people here, and that they were savages. Few people believe that now. Although the concept that Columbus was a discoverer is still relatively strong in our culture. Frankly, it's pretty remarkable that people think that someone could 'discover' a land where millions and millions of people lived."
The Indigenous Peoples' Day celebration takes place at the Amphitheater at the Inner Harbor Monday from 5 to 6 pm, and will feature traditional Haudenosaunee singing and dancing. Syracuse University began marking Indigenous Peoples' Day in 2016, and will have its own celebration from noon to 4:00 p.m. on the Quad.