Mayor Ben Walsh Highlights First Term Progress, Releases "Keep Rising" Plan For Second Term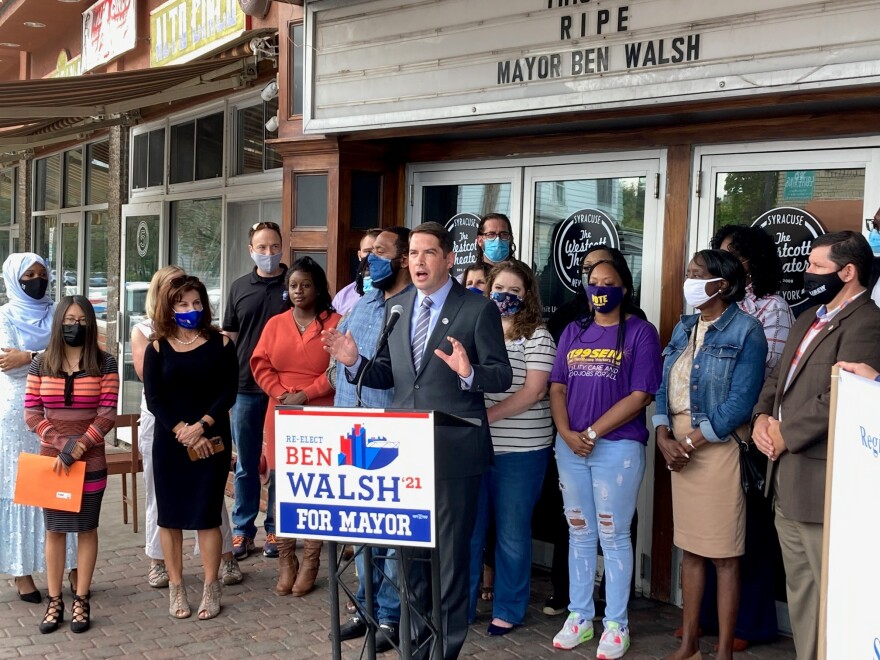 Syracuse Mayor Ben Walsh Friday highlighted the progress of his administration over the past four years, and presented a plan he says will continue that momentum should he win a second term. He says they've taken on some of the most intractable challenges facing the city that have eluded predecessors.
"We have a municipal sidewalk program. We have police residency for new police recruits. We have a brand new LED streetlight network that's sustainable, saving energy, saving money. We are restoring our city's fiscal stability. We are increasing our graduation rates. We are reducing vacant housing. And for the first time in 70 years, the census shows that our population has grown."
Walsh stood outside the Westcott theater with dozens of supporters, the same location where he announced his bid for reelection in March. He acknowledged there's still much more to do, and wants to finish what they started. Walsh says his administration will continue to invest in public safety and police reform.
"We are going to test and start new alternative policing strategies. We're going to hire a 5th police class of this administration. We're going to graduate the academy we have right now in December."
Walsh says they'll work with the police department to turn back violent crime. His opponents say the mayor is adopting some of their focus on public safety. Republican Janet Burman has made it her top priority.
"A recent mailing by the incumbent, the headline on it literally could have been cut and pasted from my campaign literature."
Democrat Khalid Bey has his own ideas to make policing more effective.
"Look into reestablish police precincts, mainly along business corridors; a community patrol of sorts where people would walk their communities, almost an addition to neighborhood watch efforts."
We'll hear more from all three mayoral candidates in separate interviews next week.