WAER works hard to bring you award-winning sports coverage in Central New York. With a Sports staff of more than 20 people, you get comprehensive coverage of Syracuse University Football, Men's Basketball, and Men's Lacrosse. The best play by play on the air combined with regular morning and afternoon sports updates make WAER the source for sports in Central New York. See the legacy video here. See what it's like being in WAER Sports00000176-de2c-dce8-adff-feeff0ff000000000176-de2c-dce8-adff-feeff0ff0003
Notre Dame Outlasts Syracuse in 88-87 Thriller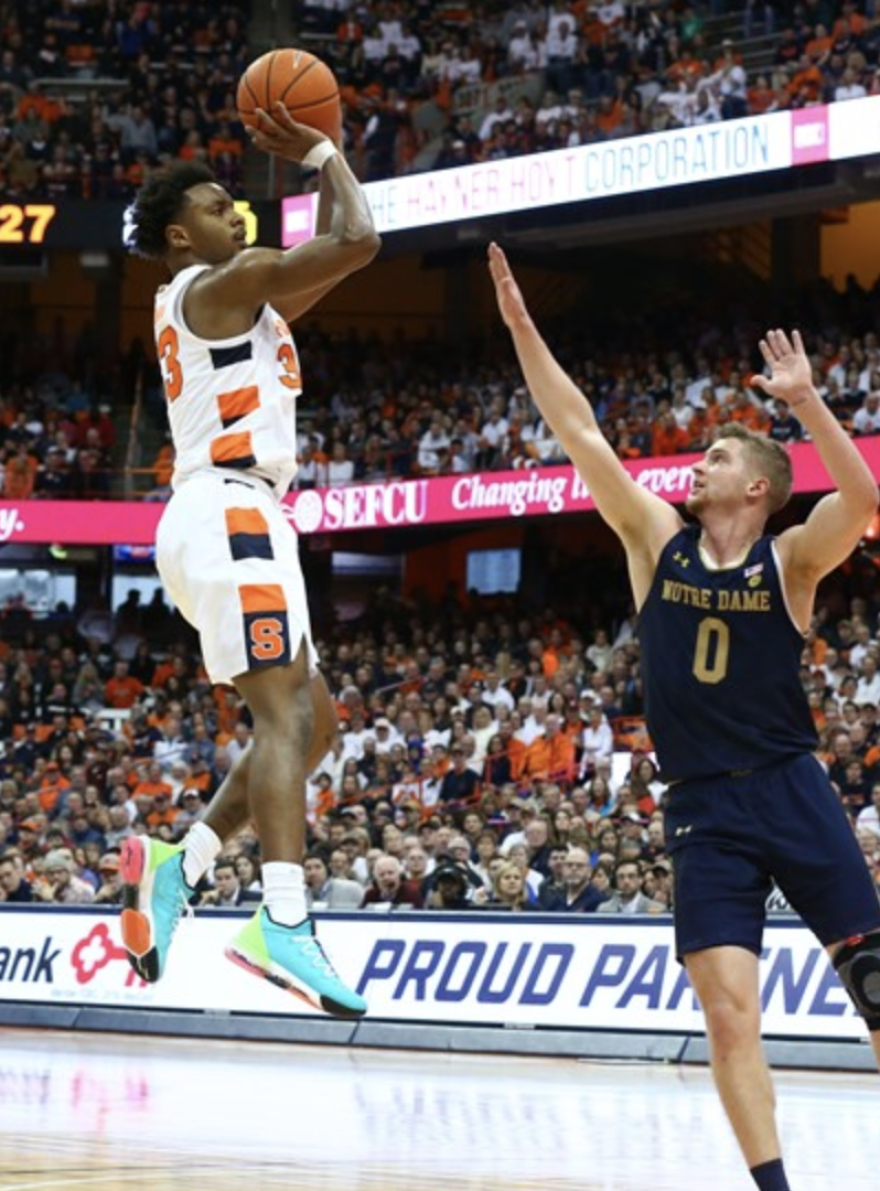 Saturday, the Syracuse Orange hosted the Fighting Irish, who came into the Carrier Dome with a very similar resume: no real impressive wins, no disastrous losses. Bettors in Las Vegas expected a high scoring affair, which is a contrast to past Syracuse teams. But bettors were right in their expectations, as the teams combined for 175 points, including 30 three pointers, shooting 48.4% each.
The game started early on with a Buddy Boeheim 3 pointer and foul, which was a sign of things to come for the Sophomore. Much like the rest of this season, the Orange relied on 3 point shooting to keep them in this game, struggling to get much going inside.
Notre Dame's Temple Gibbs scored 21 points, including 10 of the Irish's first 12 to start the game.
The game had some incredibly thrilling moments, with a beautiful sequence starting about halfway through the first half. Quincy Gurrier entered and provided his best outing of his young career, Gurrier blocked a layup attempt which lead to an Elijah Hughes three pointer. Notre Dame then answered with a three of their own. Hughes responds with another three, with Gurrier then blocking another shot and Hughes finishing a layup on the other end.
A timeout was called, capping a 10-0 Syracuse run, with Elijah Hughes scoring 8 points in 2 minutes.
The first half ended 40-37 Syracuse, with Notre Dame held scoreless for the final 4 minutes.
The second half began with some awful looking misses, which is unfortunately all too common right now in a down year for all of college basketball. However, that would change quickly, with Temple Gibbs and Prentiss Hubb trading shots with Buddy Boeheim to start the second act.
After Notre Dame cooled off from three, Syracuse cut it to a one possession game. However, the Irish began to chip away on the offensive glass, with Marek Dolezaj being outclassed by John Mooney, who finished with 28 points and 14 rebounds. Offensive rebounds for Notre Dame were the story of the second half, until Prentiss Hubb decided to add his own chapter.
Following a Notre Dame basket, Hubb knocked down Joe Girard with 5:29 left in the game. He stood over him, taunting him, and received a technical foul. After hitting a technical free throw, Girard came alive, and went right at Hubb, hitting a heavily contested step back 2.
The teams began trading baskets in another jaw dropping sequence, with Mooney scoring on an and-one layup, followed by a Girard three. Prentiss Hubb got revenge, hitting a three of his own. Girard, with a different look in his eye, made yet another three. After a Mooney dunk, Buddy Boeheim stroked another jumper, with Syracuse now leading 81-79.
Gurrier made another great play, adding a putback dunk to make it 84-81 late. But on the Irish's next possession, Joe Girard gambled on a steal attempt and failed, leading to an open three to tie the game.
John Mooney then added a putback of his own to give Notre Dame an 86-84 lead.
After a Boeheim timeout, Hughes had a chance to tie it, missing a layup contested by Mooney. Syracuse then had to foul Prentiss Hubb, who made both free throws to give the Irish a 4-point lead.
Left with no choice but to score a three while getting fouled, Syracuse scrambled and found Girard for a last ditch three-point attempt, which he made with 0.4 left.
In a lapse of judgement, Notre Dame contested the shot and made contact with Girard's shooting hand. After a no call from the referee, most of the Syracuse players turned their attention to the non-call, including coach Boeheim. The Irish inbounded the ball and ended the game, with a final score of 88-87.
While it may be easy to point to Notre Dame's three-point shooting as a reason for the loss, John Mooney and the Fighting Irish thoroughly outclassed the Orange on the glass, particularly in the 2nd half. Notre Dame missed 38 shots, but rebounded 19 of them.
While the backcourt of Girard and Boeheim has proved electric on offense to this point, many still have concerns on the defensive end, especially in situations where the zone needs to shift quickly. However, they've provided a much-needed spark to the offense this season, Girard and Boeheim combined to shoot 11-21 from three Saturday.
The game marks the first time all season a Syracuse outcome, win or lose, ended within a 10 point margin.
The Orange will look to rebound off a tough loss, hosting coach Mike Young and Virginia Tech. In his first season in Blacksburg, Young has the Hokies sitting at 9-3, including a win over Michigan State. The two teams will square off on January 7th at The Dome.