Syracuse takes on Florida State in Round 1 of the ACC Tournament, trying to pull off the impossible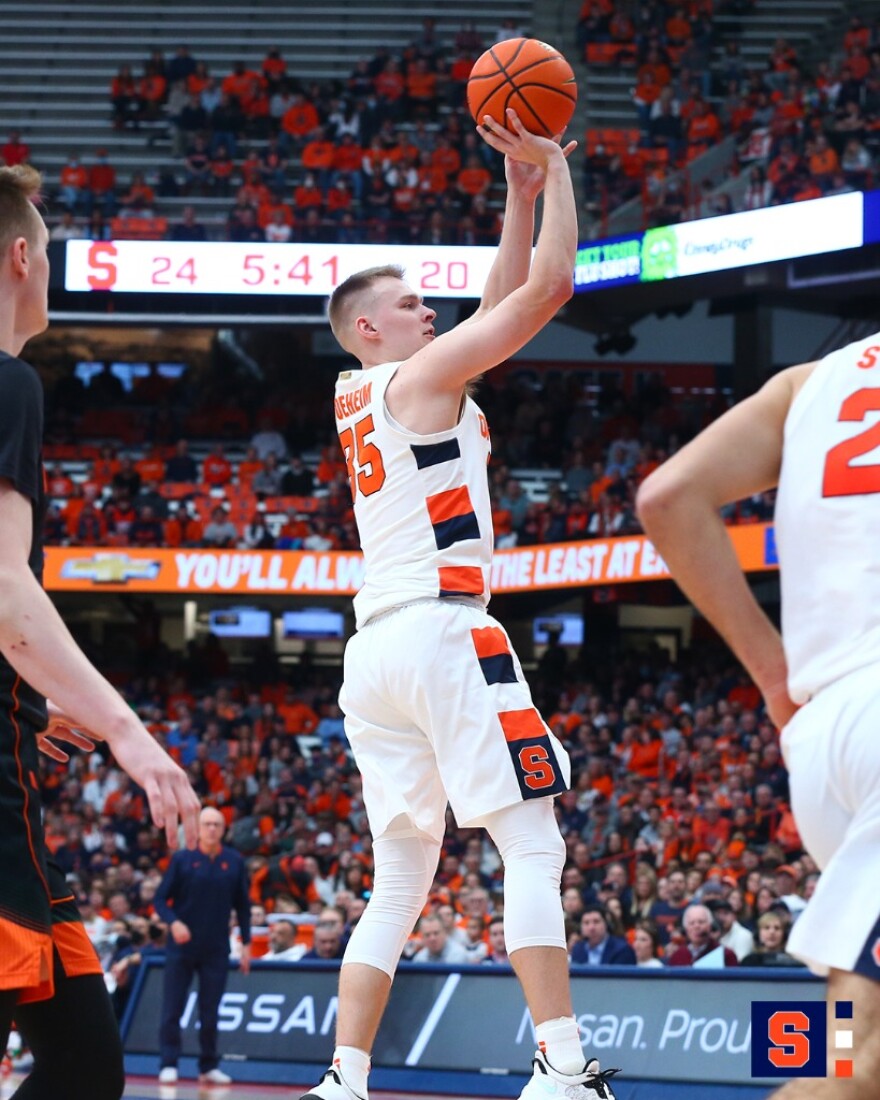 Syracuse Men's Basketball takes on Florida State Wednesday in the ACC Tournament opener. WAER's Jackson Holzer previews the do or die matchup.
It was a fitting way to end the regular season Saturday against Miami. Syracuse led by as much as 18 points in the second half, and found a way to blow yet another game against the Hurricanes. This one, coming on Senior Day.
As much as the loss stings, the game honestly did not matter a whole lot in the grand scheme of things. Syracuse was already locked into the 8/9 matchup to open the ACC Tournament, and even knew its opponent, Florida State. SU and FSU play at noon on Wednesday.
The Orange and Seminoles split the season series 1-1 with each team winning on their opponent's home floor. When Syracuse traveled to Tallahassee back in early December, it actually fell behind at the half, and battled back. That's something it hasn't done much of throughout the year.
"We were down eight at halftime, we could've crumbled away. They're really good at home so to come back in an environment like this and play the way we did, I'm really proud of the guys," said Joe Girard following SU's 63-60 win over FSU on December 4th.
Overshadowed in that game was Buddy Boeheim's performance. Boeheim tied a season low with six points on just 3/10 shooting from the field. However, he did bounce back against Florida State in the second matchup on January 15 with 18 points. If SU wants any chance of winning out in the ACC Tournament, it'll most likely need even more than that.
"They're going to double him (Buddy) or wherever he goes with the ball, they're coming to help," Coach Boeheim said of his son after his squad beat FSU in Tallahassee. "That's the way it is when you're a really good player."
Perhaps the bright spot of the season has been SU's ability to score. The 'Cuse average 76.7 points per game which is fourth in the ACC. The Seminoles are near the bottom of the conference in points-allowed-per-contest at 71.1. However, SU scored nearly ten less points on average in both contests against FSU. A lot of credit could be given to the Noles' leading scorer, guard Caleb Mills. The Houston transfer recorded two steals in each of Florida State's meetings against the 'Cuse this year.
Unlike last year, the Orange can't just make noise in the conference tournament to make March Madness. They're going to have to win-out. That means winning four games in four days, but Syracuse can only look in the present which is honing in on Florida State.
Nine-seed Syracuse takes on eight-seed Florida State in round one of the ACC Tournament Wednesday at noon. GZA Countdown to Tipoff begins at 11:30 A.M. on WAER.