OCC's Gallery now Featuring Malfitano's Collection Of Syracuse Jazz Fest Archives, Artifacts and Art
Much like composers uniquely arrange all of the notes, Onondaga Community College Visual Arts Department Professors also made a masterpiece of their own in a wonderfully organized and colorful art gallery of Syracuse Jazz Fest history. The newest exhibit that officially opened to the public this week is called "Jazz Fest Memories and Memorabilia."
Founder and Executive Producer Frank Malfitano lives and breathes the music industry. He championed enough support over the years to keep the festival going strong for 35 years. Malfitano points out that he feels indebted to the work of multi-talented individuals who also shape the festival.
"I'm just delighted to be here amongst these performing artists, visual artists and incredible educators and artists in their own rite. These are all brilliant artists and I just think the passion that they brought to this exhibit is going to make it one of the most exciting things we've ever done for the community. I hope everybody comes up and celebrates it the next 5 weeks. It's free. And we'll be having a kick-off party here on the first night of Jazz Fest on June 8th and everybody's invited."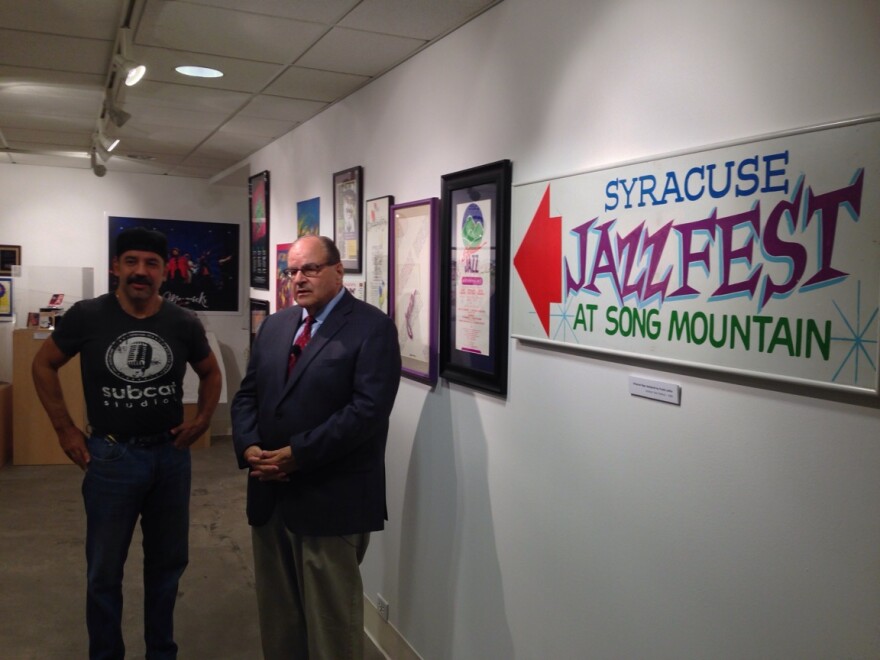 The 'art of Jazz Fest' in colorful posters designed by artists, photos and names of performers got bassist Edgar Pagan thinking about the young artists he saw at the festival years ago.
"And now, you know. I mean, how many Grammy's has Pat Metheny won? It's so many, you know. And the music he has delivered is just amazing that he (Frank Malfitano) had them at such a young stage and to have them come back later-on too is pretty special. There's quite a history here."
jazz_occ_gallery_web.mp3
Listen to the produced radio story by John Smith.
OCC Professor of Art and Graphic Design Bruce Osborne enjoyed organizing the memorabilia with two other professors.
"Obviously it's interesting seeing some of the photos from some of the performers and some of the gifts that the performers or whatever have given to Frank."
…Such as an autographed photo of Paul Anka and a comical lyrics he wrote about Syracuse. Local Jazz performer Ronnie Leigh hopes the placement of the gallery at O.C.C. also entices first-time jazz listeners.
"I hope we get some younger folks involved in listening and appreciating what this music is. Where it came from and you know, it's indigenous to America."
The Jazz Fest Gallery is being held at the Ann Felton Multicultural Center in Ferrante Hall at OCC May 15th through June 15th - Monday through Thursday from Noon to 4 PM. Special viewing appointments can be made by calling (315) 498-2401. The 35th Jazz Fest will be held June 8-11, 2017 on the O.C.C. campus. WAER is proud media partner.