Each side in I-81 litigation interpret judge's decision differently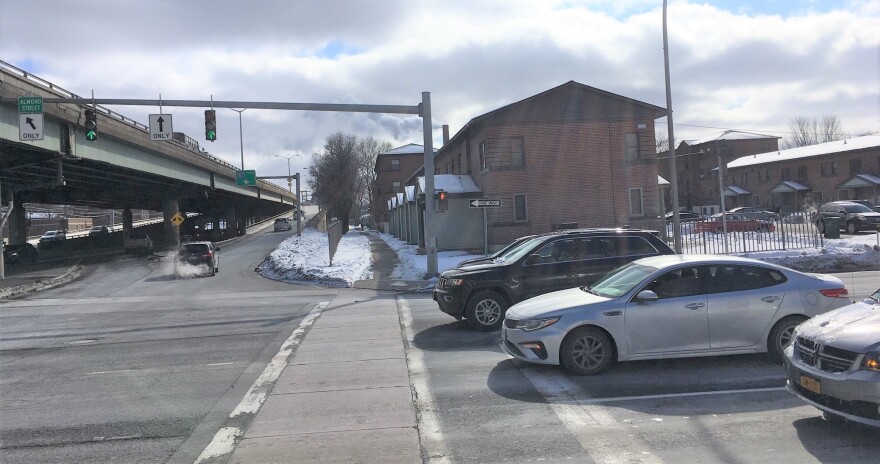 Those supporting and opposing the lawsuit challenging the state DOT's plan to replace the I-81 viaduct with a community grid are interpreting a judge's ruling in different ways. Each side is claiming some measure of victory.
State Supreme Court Judge Gerard Neri has ordered the state to conduct additional environmental reviews that take into account the impact of the massive Micron project in Clay as well as air quality monitoring and stormwater management. But there's one key decision the judge said he wouldn't and didn't make. Lanessa Owens-Chaplin is director of the environmental justice project with the New York Civil Liberties Union.
"The court was clear that they cannot force the New York State Department of Transportation to pick one option over the other," Owens-Chaplin. "I think that 's really promising for a lot of community residents who have been asking to remove the viaduct."
But the attorney representing the group Renew 81 for all, which brought the lawsuit, interprets the ruling differently. Alan Knauf says after conducting additional studies, he believes the state dot will have to change their recommendation.
"Because of Micron, they're going to come to a different conclusion," Knauf said. "Namely that it makes no sense to destroy I-81 through the center of Syracuse. It's to no one's benefit. It's going to cause great inconvenience in the community, disrupt the community, and cause great environmental damage."
The state DOT declined an interview, but Communications Director Joe Morrissey says in a statement that their reviewing the court's decision and determining next steps.
Owens-Chaplin with the NYCLU says the litigation was clearly a stall tactic, but is pleased that the court allowed contracts to go forward. She hopes as the DOT conducts additional studies to satisfy the court ruling that they also remember the voices of residents from the affected neighborhoods. Owens-Chaplin says they submitted thousands of comments and signatures calling for the removal of the viaduct. Meanwhile, she says the NYCLU continues to advocate for other safeguards in the project.
"We are still working with the DOT on a stronger lead abatement plan, and we're still working on carving out at least four acres of land to be used for the purpose of a community land trust," Owens-Chaplin said. "Those conversations have continued despite this litigation."
The land would come from what's leftover after the viaduct is removed and the community grid is built. She says the NYCLU doesn't claim the community grid plan submitted by the state is the perfect project, but is aligned with the residents who live near the viaduct that it's the best option.