Syracuse football hosts Pitt in final chance to clinch bowl appearance
Syracuse football has one final chance to get that bowl-clinching sixth win this Saturday against Pitt. WAER's Braden Reed breaks down what to expect from the Panthers.
For the third week in a row, Syracuse football enters its matchup with a chance to punch its ticket to the postseason. The Orange sit at 5-6, needing one more win to clinch a spot in a bowl game for the first time since 2018.
But if the last two games are any indication of SU's chances to grab that elusive sixth win, it certainly won't be easy.
Coming off two straight wins and a bye week, Syracuse stared down three opportunities to do so. The Orange subsequently gave up 41 points in back-to-back games and only managed to score 20 points in the same stretch. Needless to say, they lost both games. This Saturday, they have their third and final opportunity in the Dome against number 20 Pitt.
Beating the Panthers will be no small task. They boast the third-best scoring offense in the country at 43.9 points per game, and are fifth in the country in passing offense with 370 yards per game. For reference, Syracuse throws for more than 200 yards less than Pitt per game, at only 146 yards. The Panthers offense is juggernaut.
Leading the charge is quarterback Kenny Pickett. The fifth-year senior has been on a tear this season, sitting in the top five nationally in both passing yards and touchdowns. Pickett has led Pitt to a 9-2 record and the program's highest ranking since 2010.
Like many people around the country, Syracuse head coach Dino Babers has taken notice of Pickett's fantastic play, saying, "To me, he's going to be a number one draft pick. He's the best quarterback in the ACC."
For a Syracuse defense that's given up an average of 256 passing yards over the course of its last two games, Pickett and company could pose a lot of problems. The unit as a whole has struggled mightily against quarterbacks of Pickett's caliber this year, and he's still arguably the best one it'll face all year. Wake Forest quarterback Sam Hartman torched the Orange for 330 yards and three touchdowns, and just last week NC State's Devin Leary went over 300 yards and two scores.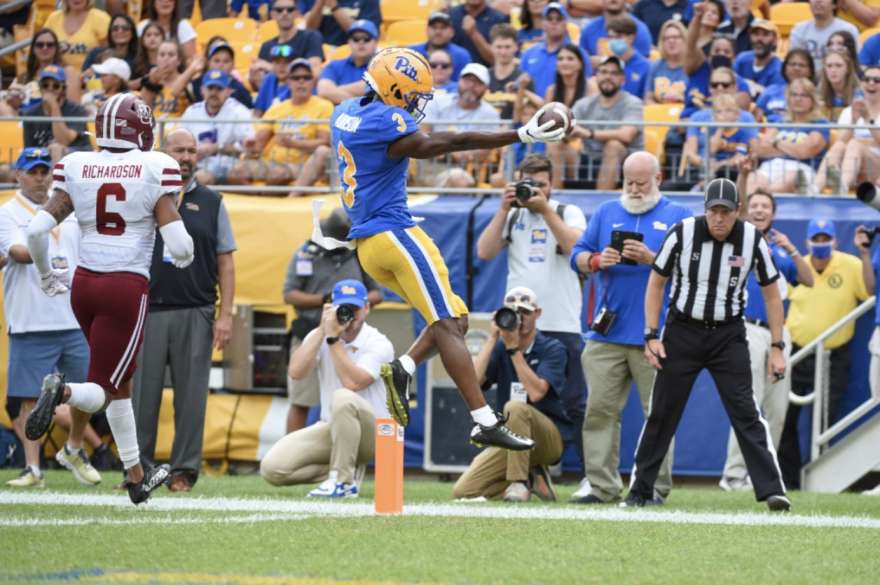 Pickett's main man, wide receiver Jordan Addison, is also having a great season in his own right. He was one of three players named as a Biletnikoff Award finalist, the award given to the best receiver in college football. The sophomore leads all Power 5 receivers with nearly 1,300 receiving yards and leads the country with 15 receiving touchdowns.
If the Orange plan on hanging around and potentially clinching that bowl game, the pass defense will need to have one of its best performances of the year.
The Orange and the Panthers get going on Saturday at 7:30, WAER's coverage starts at 7 with Countdown to Kickoff.