WAER works hard to bring you award-winning sports coverage in Central New York. With a Sports staff of more than 20 people, you get comprehensive coverage of Syracuse University Football, Men's Basketball, and Men's Lacrosse. The best play by play on the air combined with regular morning and afternoon sports updates make WAER the source for sports in Central New York. See the legacy video here. See what it's like being in WAER Sports00000176-de2c-dce8-adff-feeff0ff000000000176-de2c-dce8-adff-feeff0ff0003
Syracuse, 5-seed Georgetown lacrosse look to renew rivalry in NCAA Tournament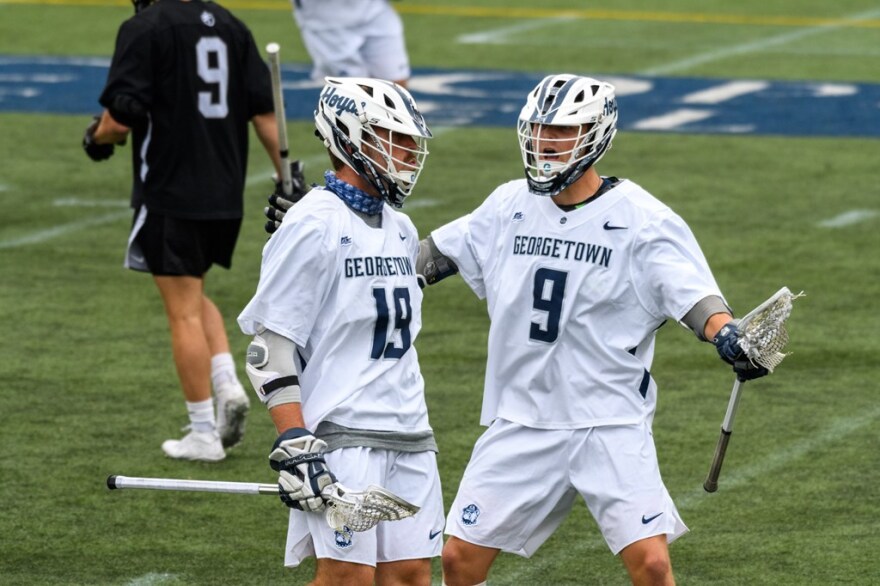 Back in February, if you said that the Orange would be an unseeded team in the NCAA Tournament, not many people would've believed you. SU was ranked in a tie for second in the preseason USILA poll, and a Final Four run felt like an expectation.
Things didn't quite go according to plan. Syracuse started hot with a 4-1 record, but cooled off in a major way down the stretch, going 3-4 the rest of the regular season. Double digit losses to North Carolina and Notre Dame put some serious question marks on SU's chances.
All of that gets thrown out the door come tournament time. Rankings and seedings aside, the Orange just need to beat whoever's in front of them. That all starts with 5th-seeded Georgetown.
It's been quite a while since these two teams last played. In fact, you'd have to go all the way back to 2013, to the days of SU and the Big East. Syracuse pulled out a 9-8 win in that one, and went on to finish as runner-up in the national championship. The 'Cuse hasn't been back to the title game since.
Changing that starts on Saturday at 7:30 pm, when the Orange and the Hoyas face off at Capital One Field in Maryland.
Georgetown finished their regular season with a 12-2 record and claimed the Big East Championship. The Hoyas are led by attackman Jake Carraway, midfielder Graham Bundy Jr., and Owen McElroy between the pipes. They had 5 players named to the all-Big East team this year. The point being, this team is very good up and down the field. There's very few holes on their roster, if any at all.
Carraway is 3rd in the nation in goals with 46, and the Orange have struggled against goalscorers like Duke's Michael Sowers, Notre Dame's Pat Kavangh, and Robert Morris' Ryan Smith. Carraway could wreak havoc if the Orange don't pay special attention to him.
Syracuse goalie Drake Porter, the man tasked with stopping the shots Carraway will inevitably create, had high praise for the attackman, calling him, "Super talented. He's a really strong, athletic dodger. … [He] goes hard to the net and when he wants to score he's going to try and do everything in his power to score."
The man who's been feeding Carraway the ball all year, attackman TJ Haley, is also having an incredible season. The freshman leads the nation in assists with 3.62 per game, and the two players benefit off of each other's respective abilities, filling up the stat sheet in the process.
On the back end, goalie Owen McElroy is also having a fantastic season in his own right. He's the only netminder in Division I lacrosse with a save percentage of over 60%, and is second in the country in goals against, only allowing 7.97 a game.
Dominating wins over teams like St. John's, Mount St. Mary's, and Providence might give off the impression that the Hoyas had a weak schedule, but that couldn't be further from the truth. Georgetown ranked 7th in the country in RPI, a metric that ranks teams based upon its wins and losses against its strength of schedule. For comparison, Syracuse, whose schedule was full of teams like Notre Dame, North Carolina, and Duke, ranked 5th. The Hoyas beat good teams, and they did so convincingly.
So what does Syracuse need to do to come out on top against a good team like Georgetown? Head coach John Desko made two main points: stop Jake Carraway and win faceoffs. He acknowledged Georgetown's ability in all aspects of the game, but focused on Carraway, saying, "We've got to be aware of [Jake Carraway] and we've got to be able to help when we see needed."
Desko also went on to add, "If you look at the faceoff statistics, we've had to play, in our losses, an awful lot of defense." Playing a lot of defense has translated to losses for the Orange. When SU wins more than half of their faceoffs, they're 6-1. When they don't, they're just 1-4. Winning faceoffs has meant winning games for them this year.
It's going to take a complete game from the Orange to advance, but Desko believes that the team can do it, "We want this to be our next game, not our last game."
Coverage starts with an hour-long edition of Countdown to Faceoff starting at 6:30 p.m., with game time set for 7:30.