Newhouse Partners with City School District on Student Film Project
Lead in text:
Undergraduates from the Newhouse School at Syracuse University partnered with students from Fowler High School to produce three films.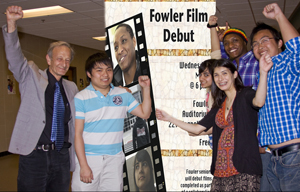 Students from Syracuse's Fowler High School partnered with undergraduates from the S.I. Newhouse School of Public Communications to produce three films about life in the halls, classrooms and playing fields of Fowler. The Fowler students, Khang Tran, Phuc Do, Vincent Ndabaruta and Deemah Abdulwahed, participated in a 10-week seminar taught by Newhouse Professor Richard Breyer.