WAER News Round Up: Feb. 13-17
In this week's news, updates come on the I-81 project, Upstate Medical and Crouse Health merger, and Jamesville Correctional Facility closure. Other stories include the rejection of Gov. Kathy Hochul's chief judge nominee and the proposal of the Syracuse City School District budget.
Catch up on more of the week's news below:
1. Both sides in I-81 litigation interpret judge's decision differently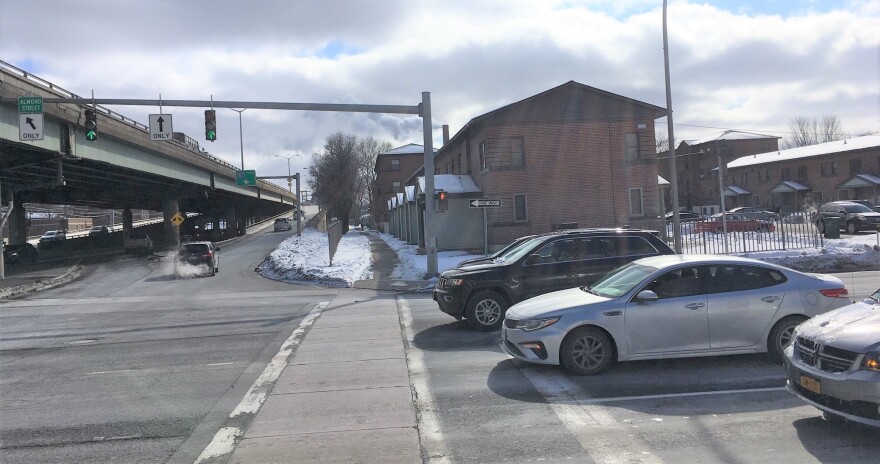 A judge ordered the state to submit a supplemental environmental impact statement to justify the removal of the viaduct and replacing it with a community grid.
2. Upstate and Crouse merger called off, Upstate president confirms
Upstate Medical has confirmed they will not merge with Crouse Health, but will enter an independent partnership to streamline medical care.
3. Jamesville jail closure plan submitted to state commission
Onondaga County Executive Ryan McMahon on Tuesday shared with a state commission his plan to close the Jamesville Correctional Facility and consolidate inmates and staff at the downtown Justice Center.
4. New York Senate rejects Hochul's chief judge nominee
In a full floor vote, the New York State Senate rejected Gov. Kathy Hochul's choice for the state's chief judge, 39-20. This marks the first time in recent history that the Senate rejected a governor's nominee for chief judge.
5. Syracuse City School District presents proposed budget
Public hearings are set for next month to give the public a chance to weigh in on the district's spending plan.
6. White racist gets life sentence for Buffalo market massacre
The sentencing hearing for Payton Gendron was disrupted briefly when he was charged by a man in the audience, who was quickly restrained.
7. City of Syracuse hires Chief Accountability Officer to oversee police reform at SPD
Jawwaad Rasheed brings more than 40 years of public and private sector experience to the role, from lawyer to educator.
8. Attendance in New York state parks reaches record highs
New York experienced record high attendance in its state parks, peaking at 79.5 million attendees.
9. New York wants to make it easier to get medications that treat opioid use disorder
New York will be lowering the threshold for support for opioid withdrawal, taking inspiration from REACH and affordable treatment.