NYCLU Report Analyzes Impact of I-81's Replacement Through Racial, Economic, Environmental Lens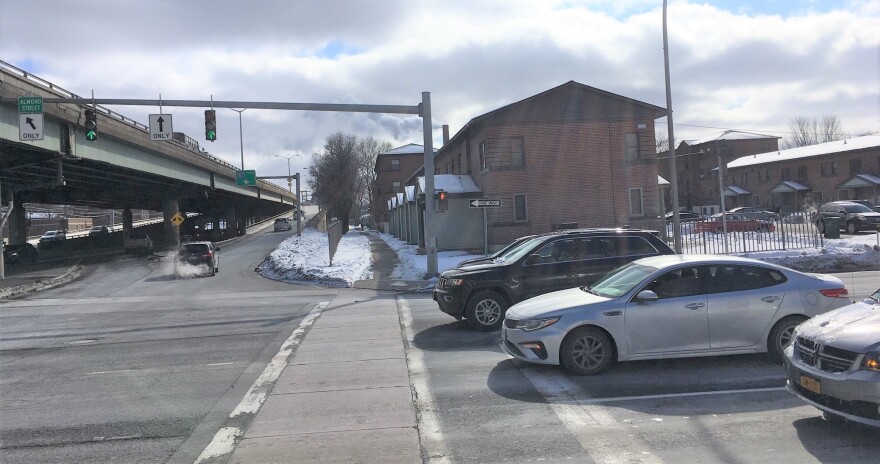 The New York Civil Liberties Union is trying to ensure that the state DOT takes racial, economic, and environmental justice into consideration during and after the replacement of I-81 in Syracuse. They released a 40-page report Wednesday that highlights the damage done by the highway when it was built in the 1960's, displacing the working class black community that made up the 15th ward.
Now, NYCLU Education Policy Center Assistant Director Lanessa Chaplin wants to know it won't be repeated with a community grid.
"They acknowledge there was an abundance of harm during the original build. They also acknowledge the racial divide that the viaduct created. But they don't do anything to integrate that into the plan."
She's referring to the draft environmental impact statement (DEIS) released by the DOT nearly two years ago. Chaplin hopes there's more in the DOT's final plan. For example, during construction, she says there needs to be empathy and compassion for the adjacent community, from residents to schools.
"We want to make sure they're breathing clean air. We want to make sure their limited access to health care and grocery stores isn't interrupted for 4 to 7 years. We want to make sure kids can still learn at STEAM at Dr. King uninterrupted. Very basic human things."
Of course, she says the NYCLU also wants to ensure that city residents have access to the job opportunities presented by the massive project, especially people of color. After construction, Chaplin says it's critical that those living in the low-income housing nearby aren't pushed out by restoration efforts.
"We know the city is planning to do a lot of economic development in that community. We have to be very intentional with the land that's there that it's used to the benefit of the people who live there, and they're not again being burdened with having to move because they can no longer afford to live in their own community."
Chaplin and the NYCLU have previously raised concerns about gentrification. The report also highlights the environmental impact of the highway, which has contributed higher rates of asthma and heart problems, and cognitive issues among children.